What is GesFicher
GesFicher is a complete time control program, adapted to the new Law, with which the workers of your company will be able to make entry and exit clocks in from different devices:
Web clocks in
Android mobile app and iPhone/iPad.
Physical presence control terminals
GesFicher's management modules allow you to analyze the clocks in to check the schedules made by the workers.
Outputs or absences can be saved for different reasons, fully configurable:
Hour permits: doctor, school follow-up, etc.
Full-day leave: holidays, own matters, etc.
Below is an outline of how the different GesFicher components connect to collect and analyze workers' clocks in.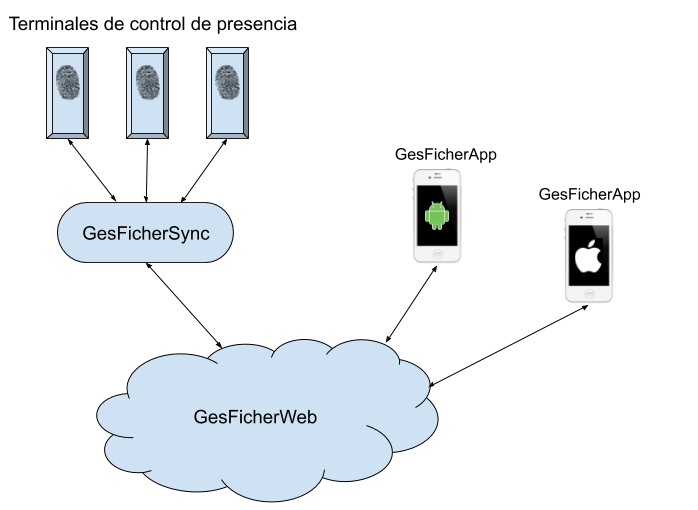 GesFicherWeb: Main module of the program in which configuration and analysis of the data is allowed, as well as allowing workers to make clocks in through the website.
GesFicherSync: It is the module that allows to convert and transmit to GesFicher the data received by different physical clock terminals. Puede consultar la lista de terminales físicos de marcaje compatibles con GesFicher.
GesFicherApp: Android/iPhone/iPad app that allows you to perform and check clocks in.



You can set up different custom calendars and assign them to each employee. Calendars can indicate which time to meet and between what time of check-in and check-out time. Based on the information collected by the different modules of the application, the schedule made by each worker will be displayed in real time, being able to clearly identify whether the user has complied with his schedule, has lacked time or has left over.