Types of clocks in / permissions
Departures or absences can be saved for different reasons, fully configurable:
Time permits: doctor, school follow-up, etc.
Full-day permits: holidays, own affairs, etc.
Users with admin permission will be able to manage the types of markups and permissions. In addition to the input and output clock in types, you can configure different outputs to perform the various activities that can be presented. If the company has any physical clock terminals, you must register the dialing types from this option and associate them with the types of clocks in through the "Code. terminal clock in".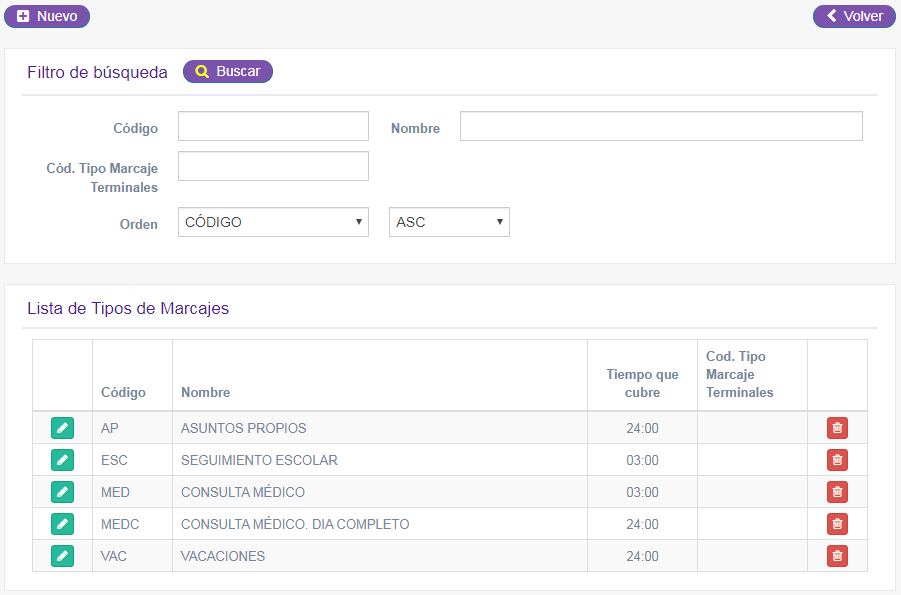 On the main screen of maintaining markup types you can register types of clocks in and look for some existing type to modify or delete.
Data
Indicates the configuration data of the clock in type: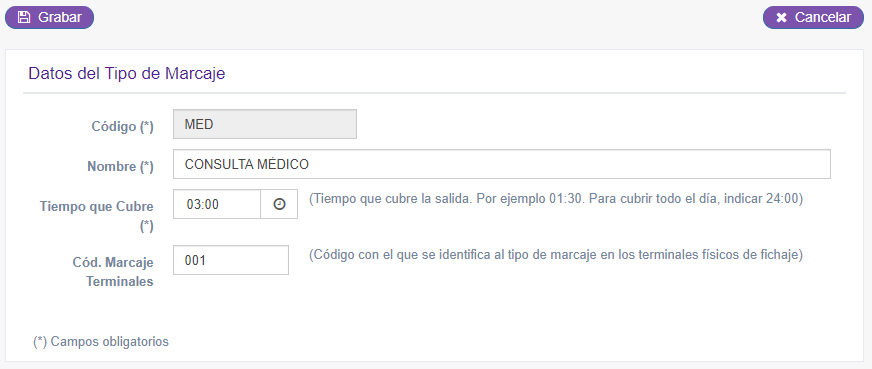 Code: Code that identifies the type of clock in.
Name: Name to identify the type of markup.
Time covering: Time covering the exit. For example 01:30 to save an absence that covers 1 hour and a half. To cover all day, please indicate 24:00. If for example an output of type "MEDICAL CONSULTATION" has been performed and is configured to cover 03:00 hours, if the user is missing the job more than those 3 hours, only 3 hours is justified, the rest must recover them.
Code. clock in in terminals: If you have a physical terminal, this is where you must indicate the code of the dialing type configured on the physical terminal.
Límite por usuario al año
Para los permisos que sean de 24:00 horas, por ejemplo 'vacaciones' o 'asuntos propios', se puede configurar el límite de ese tipo de días para cada usuario al año: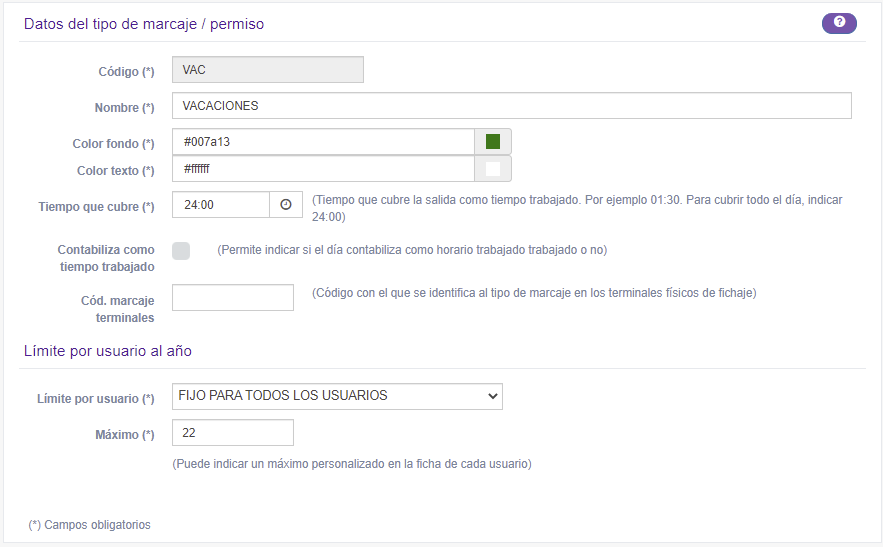 Límite por usuario: Indica el tipo de límite que se quiere aplicar:

FIJO PARA TODOS LOS USUARIOS
INDICAR MANUALMENTE PARA CADA USUARIO
CALCULAR POR FECHA DE ANTIGÜEDAD. En la ficha del usuario se puede indicar la fecha de antiguedad.

Maximum: Indica el nº máximo de días.
Independientemente del tipo y del máximo indicados, se puede establecer un máximo personalizado por usuario si así se desea, en la ficha de cada usuario.