Allowed geolocations
These are the GPS positions allowed to make input and output clocks in.
When you make a dial from the website or from the mobile app you can control the location of the user making the dial, based on the GPS position of the device you are using.
It can be used for example so that employees of the company can sign from their own mobile, but ensuring that they are located on the premises of the company.
Users with admin permission will be able to manage GPS geolocated areas from which clocks in can be made. This menu option will only be displayed if the "Geolocation Control on Tab" option is enabled in the "Company Settings".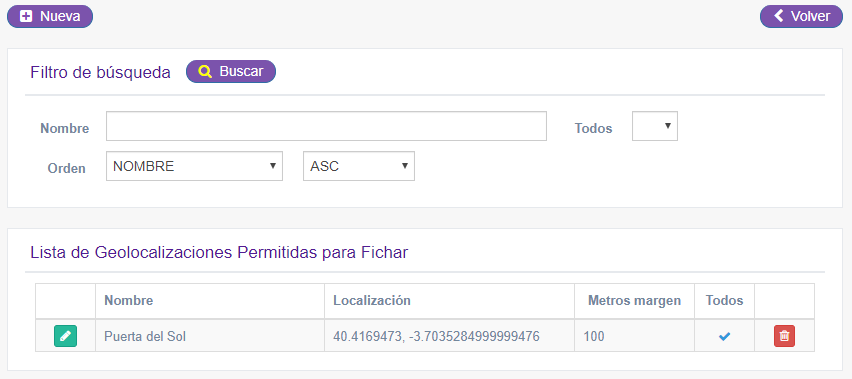 On the main screen of the maintenance of allowed geolocations you can register geolocated areas and search for an existing area to modify or delete it.
Data
Indicates the configuration data for the allowed geolocated zone:

Latitude and longitude: GPS location of the area. If the point button is pressed, we can get the current GPS position. If you press the magnifying glass button, you can search for areas on the map and get your GPS position.
Meters margin: Margin in meters that is allowed error to authorize a GPS clock in.
Name: Name to identify the geolocated area by GPS.
All users: Indicates whether this geolocated zone is allowed to support clocks in for all users in the company. If not supported for everyone, it must be specified in each user's settings.