GesFicher App
Identification
You can identify yourself in the Mobile App through your email and password. Once you have identified yourself the first time, if your mobile allows, it will ask if you want to use the additional identification your mobile allows, for example fingerprint recognition or pattern identification.
Options menu
By clicking on the icon in the top left you will be able to access all the program options.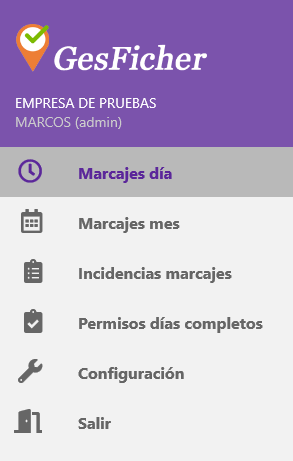 Day clocks in
Once identified, you will be shown the screen with the signings of the current day, from where you can make a signing. Depending on the user's settings, you will be forced or not to be connected to a Wi-Fi network, in a specific GPS area, etc.
If you are forced to save your GPS position, you must activate the geolocation of the mobile, through its most accurate option, without wifi networks, only with GPS.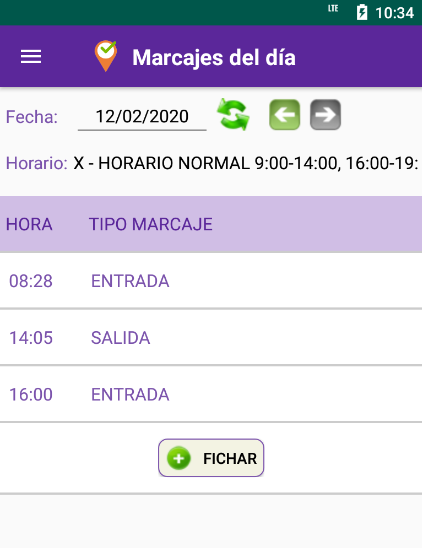 At the top of the screen you are shown the date, which you can change with the navigation buttons on the right. You can also enter a specific date by clicking on the date displayed on the screen. You will see a calendar where you can select the day you want.
Below the date is the calendar assigned to you that day. The first symbol is the day of the week: Monday (M), Tuesday (T), Wednesday (W), Thursday (T), Friday (V), Saturday (S), Sunday (S). Below is the description of the calendar assigned to that date.
If the current date is being displayed, you will see a "Tab" button with which you can save a new signing.
Settings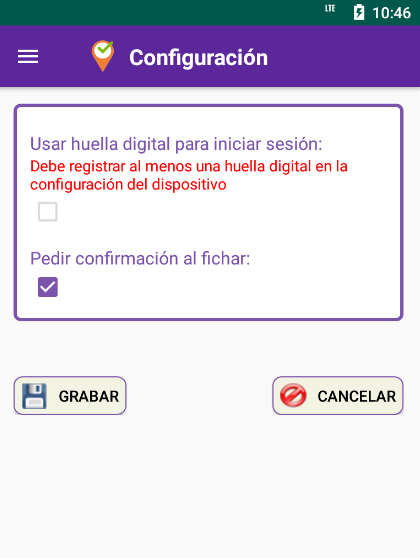 The following options can be configured:
Use fingerprint: You can enable identification with the fingerprint you have on your mobile, as long as your mobile allows it.
Confirmation when saving clock in: When you try to save a clock in, you can enable the option to ask you for confirmation of the signing or not.